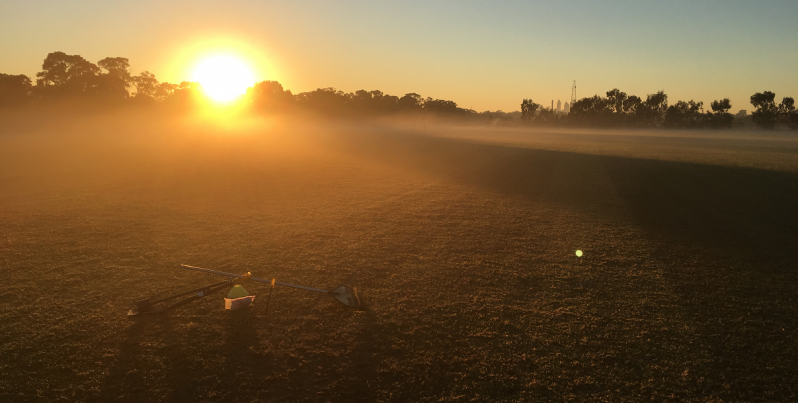 Device Features
Tiny and robust remote monitoring hardware that can be installed anywhere in the world. Like under a footy field.
Hardware Features
Rugged (IP68/waterproof and UV stable), ultra-compact and ultra-low-power devices for connecting meters and sensors to the web.
Supporting a massive range of meter and sensor types, via industry-standard signals including pulse, mA, voltage, resistance, SDI12, Modbus, RS232, RS485  and more; with switched power at 12V DC for powering connected sensors.
Hardware is completely managed from virtually anywhere via the web, including all configuration and calibration requirements. Comes with access to our dedicated installation mobile phone site supporting end-to-end installation and commissioning requirements and record collection, including collection of location coordinates and photographs. It has internal non-volatile memory to ensure your valuable data is kept safe if there is a network issue.
Can be deployed virtually anywhere in the world using a range of existing radio networks for web connectivity including cellular 3G and 4G (NB-IoT, Cat-M1 )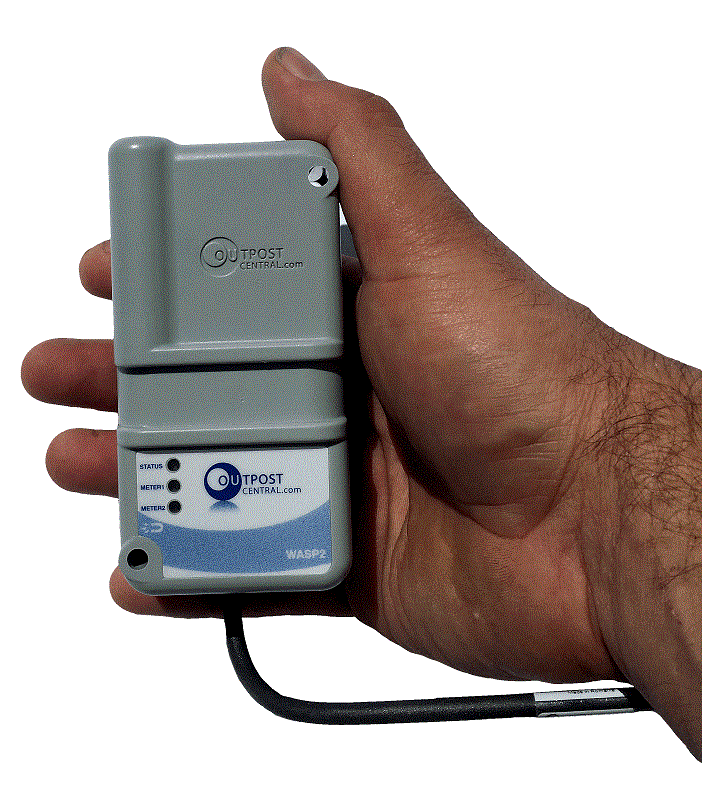 Low Total Cost of Ownership
This image shows how easy it is to install an Outpost WASP IOT device connected to a level sensor. This compact device is waterproof, has internal batteries that last for around 5 years and transmits level data to a beautiful web interface. No need to get power to the installation. No need to install a solar panel that attracts vandalism. It takes minutes to install. When the plastic meter lid is put back on there is no indication to passers by that there is a sophisticated monitoring system installed below the surface.
There are few place on Earth that this device won't work. It connects to the pervasive global cellular network, with Satellite options if your sensor is in the absolute middle of nowhere. The level sensor is powered by the WASP. The WASP switches on a 15V power supply to the sensor for a short amount of time when it is reading the sensor. The level readings are logged in internal memory if there is an issue with connectivity. The firmware is automatically remotely upgraded over it's life to maintain the highest level of security.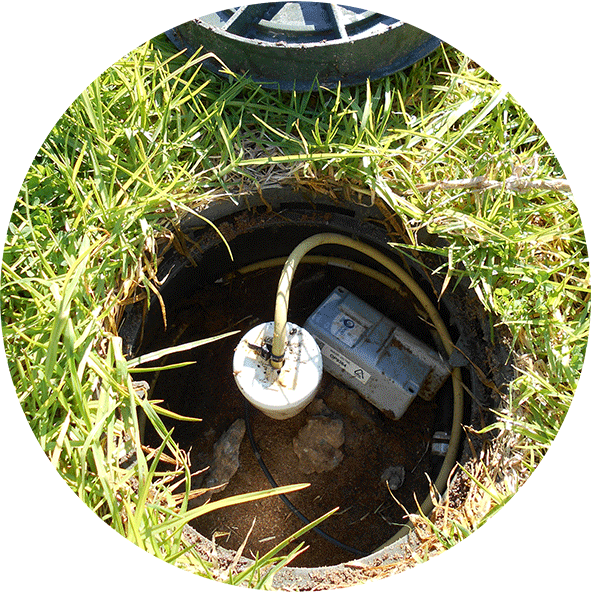 Choose from two main types of hardware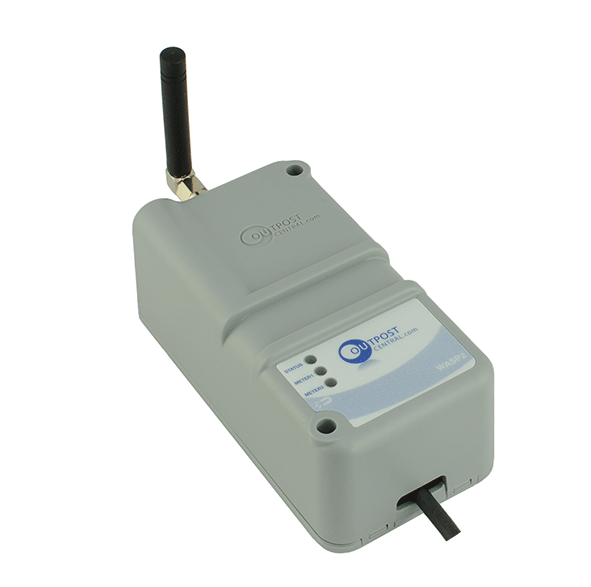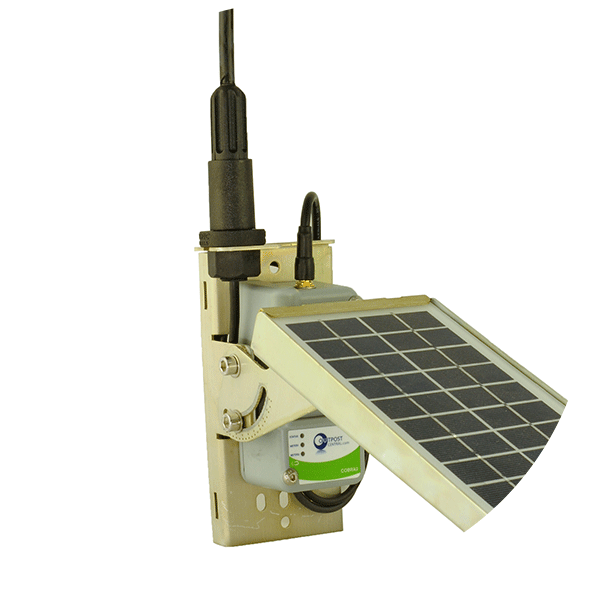 Outpost WASP
internal long life battery
Internal Lithium battery designed to provide 5 years service in typical applications. Useful when you don't want to install a solar panel to attract potential vandalism, or you just want a fast installation with minimum total cost and effort. Connect to water meters, pressure sensors, float switches, soil moisture sensors, rain gauges, MODBUS slaves. Pretty much any type of sensor. The internal battery can power the sensor as well.
Outpost COBRA
Internal rechargeable battery
Internal charge regulator and rechargeable lithium-ion battery designed to run from a flexible range of external power sources including solar panels, battery packs and mains-powered AC-DC transformers. Connect to water meters, pressure sensors, float switches, soil moisture sensors, rain gauges, MODBUS slaves. Pretty much any type of sensor. The internal rechargable battery can power the sensor as well.
Wildeye partner Scott Brain (from Carnarvon-based agronomy services provider Field Capacity) has been working with Water Corporation Western Australia on soil moisture monitoring at the Rhodes grass pasture project. The project is using treated wastewater to grow Rhodes Grass, which is turned into hay and sold to local farmers. The funds raised through the sale of the hay are used to help fund community projects undertaken by not-for-profit groups and schools, including Broome Senior High School, which received $7,500 for an interschool science, technology, engineering and mathematics event; and Centacare Kimberley, which received $7,700 for 'Cooking up Good Tucker', a project aimed at teaching traditional Aboriginal food preparation.

The quality of drinking water supplied to miners in the Pilbara region of Western Australia is being watched over by Outpost products. Rio Tinto use Outpost technology to monitor and alert for residual chlorine levels in water treatment plants throughout the Pilbara region.

Grain growers in WA's wheatbelt region are benefiting from Department of Agriculture and Food Western Australia's (DAFWA) network of online monitoring stations powered by Wildeye technology. These stations read a suite of weather sensors and sub-surface soil moisture probes to provide real-time info to Western Australia's $2-$3 billion grain industry. The data is used to inform strategic planning decisions around planting programs and input investments, and operational decisions based on real-time spraying (delta-T) and harvest (Fire Danger Index) information.

Outpost's UK partner RS Hydro is working with consortium Kier BAM and well-services contractor Stuart Group to monitor meters, environmental and geotechnical sensors throughout the $18 billion pound Hinkely Point C nuclear power station development in Somerset, England.

Our galileo temperature monitoring product now monitors vaccine storage at ASX-listed Healthscope clinics throughout Australia, helping to reduce vaccine wastage and bringing cold-chain management into the 21st century.

Wine producers in the world-famous Barossa region of South Australia benefit from Outpost technology (and on occasion we like the benefit from their wines!). Barossa Infrastructure supply irrigation water to grape growers in the Barossa region, and use Outpost products to record data from meters and pressure sensors throughout the network.

Rio Tinto relies on Outpost technology to monitor and manage diesel supply in the Pilbara where our products are used to provide their operators with detailed information and alerts regarding bulk diesel storage levels.

To further secure Perth's water supply, Water Corporation announced in 2017 that they are providing another 200 of Perth's largest water consumers with Outpost monitoring technology to help them manage their water use and ultimately reduce overall potable water demand.

Christ Church Grammar School recently deployed Wildeye sensors into their brand new St John's Wood sports fields to monitor weather and soil moisture. The soil moisture monitoring system is entirely buried within the playing fields with no visible sign of the system at all - amazing!

Water Corporation use Outpost technology to engage with some of their most important customers, including more than 200 of Perth's biggest water users.