Farm and Irrigation monitoring
irrigation meters, soil moisture, weather stations and more
Leaders in Irrigation & Farm monitoring
Outpost Central has a world leading solution for monitoring irrigation flow meters and other on-farm monitoring solutions such as Soil Moisture, Weather Stations, Temperature, Rainfall, Evapotranspiration, Water Levels, Tank Levels, Pressure & more!
Irrigation Flow Monitoring
An advanced monitoring solution that connects most Irrigation Flow meters to the web for measuring flow rates, totalisers, battery and fault status.
Soil Moisture Monitoring
Connect to low cost soil moisture probes or multi-level profile probes and gain knowledge on exactly what is happening to moisture levels below the surface for making decisions in irrigation scheduling or predicting yield.
Weather Stations
From low cost rain gauges & temperature sensors through to fully featured professional weather stations for measuring Evapotranspiration, Fire Danger Index and more.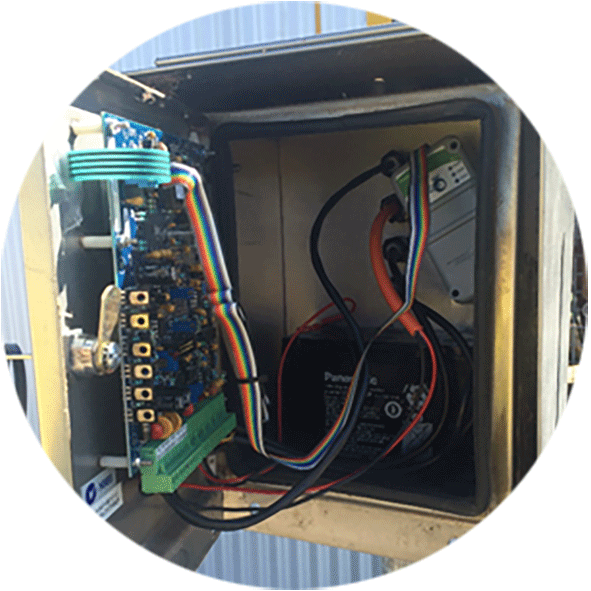 Irrigation Flow Meter Monitoring
Outpost Central is a leading irrigation smart-metering solution in the Australian irrigation industry, having been retrofitted to thousands of irrigation meters Australia wide (and new deployments coming online daily). With hardware support for pulse data from simple mechanical flow meters, serial interfaces to more complex electronic flow meters, and a range other flow measurement structures such as V-notch weirs; as well as support for ancillary sensors such as pressure sensors to monitoring control structures such as PRV's and flumes, the Outpost solution is an out-of-the-box solution and has developed a strong following in the irrigation industry due to it's low cost, simplicity, and flexibility.The software solution's ability to generate on-the-fly meter read reports, provide web-based analytical tools, give individual and secure end-user access to detailed irrigation water use data, readily integrate with existing billing, ordering and delivery systems including SCADA, and send alerts and alarms; has empowered irrigation network operators to bring their infrastructure into the digital era with minimal capital investment and technology risk.
Connect to Siemens, i300, i500, mechanical meters etc.
Servicing customers such as Murrumbidgee Irrigation, Barossa Infrastructure, Central Irrigation Trust, Harvey Water and thousands of individual farmers across Australia and New Zealand.
The following On-Farm monitoring solutions are available in Australia and the United States under the Outpost owned wildeye brand
Soil Moisture Monitoring
An affordable soil moisture monitoring solution for Horticulture, Viticulture, Dryland cropping, Pasture production, Row cropping, Silviculture, Floriculture, landscape and research.
Connect low cost sensors through to multi level profile probes that can measure Soil Moisture, Temperature and EC. Supported sensors include Decagon, EnviroPro, Sentek, Aquacheck, Irrometer, tensiometers and our fully web based graphing and reporting solution allows for detailed analysis of your soil moisture levels.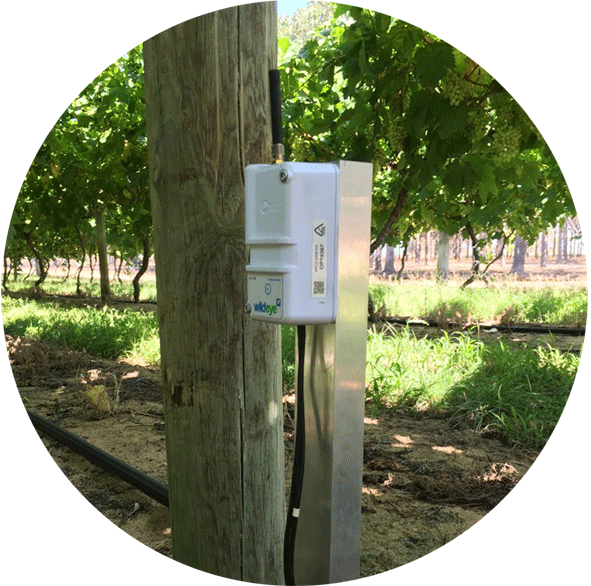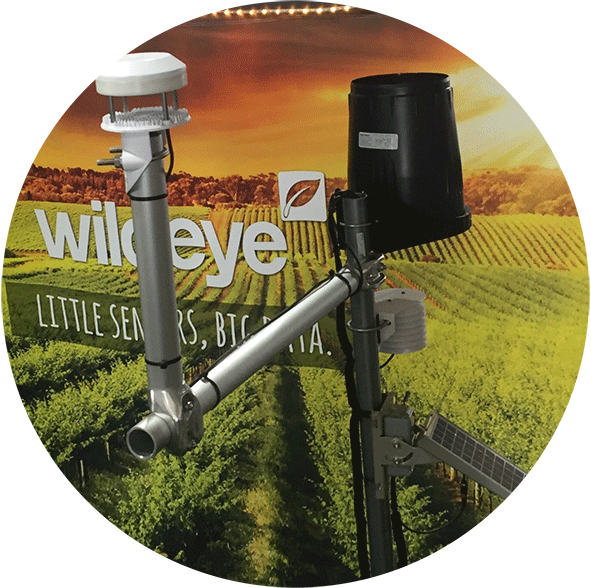 Weather Stations, Rain Gauges, Temperature
The wildeye weather station range includes low cost rain gauges and temperature sensors through to fully featured professional weather stations for measuring Evapotranspiration, Fire Danger Index for harvesting, Spraying conditions, Hay Dew sensors and more. 
View your weather information live through the wildeye web platform with beautiful dashboards and detailed graphing solutions. 
Wildeye partner Scott Brain (from Carnarvon-based agronomy services provider Field Capacity) has been working with Water Corporation Western Australia on soil moisture monitoring at the Rhodes grass pasture project. The project is using treated wastewater to grow Rhodes Grass, which is turned into hay and sold to local farmers. The funds raised through the sale of the hay are used to help fund community projects undertaken by not-for-profit groups and schools, including Broome Senior High School, which received $7,500 for an interschool science, technology, engineering and mathematics event; and Centacare Kimberley, which received $7,700 for 'Cooking up Good Tucker', a project aimed at teaching traditional Aboriginal food preparation.

The quality of drinking water supplied to miners in the Pilbara region of Western Australia is being watched over by Outpost products. Rio Tinto use Outpost technology to monitor and alert for residual chlorine levels in water treatment plants throughout the Pilbara region.

Grain growers in WA's wheatbelt region are benefiting from Department of Agriculture and Food Western Australia's (DAFWA) network of online monitoring stations powered by Wildeye technology. These stations read a suite of weather sensors and sub-surface soil moisture probes to provide real-time info to Western Australia's $2-$3 billion grain industry. The data is used to inform strategic planning decisions around planting programs and input investments, and operational decisions based on real-time spraying (delta-T) and harvest (Fire Danger Index) information.

Outpost's UK partner RS Hydro is working with consortium Kier BAM and well-services contractor Stuart Group to monitor meters, environmental and geotechnical sensors throughout the $18 billion pound Hinkely Point C nuclear power station development in Somerset, England.

Our galileo temperature monitoring product now monitors vaccine storage at ASX-listed Healthscope clinics throughout Australia, helping to reduce vaccine wastage and bringing cold-chain management into the 21st century.

Wine producers in the world-famous Barossa region of South Australia benefit from Outpost technology (and on occasion we like the benefit from their wines!). Barossa Infrastructure supply irrigation water to grape growers in the Barossa region, and use Outpost products to record data from meters and pressure sensors throughout the network.

Rio Tinto relies on Outpost technology to monitor and manage diesel supply in the Pilbara where our products are used to provide their operators with detailed information and alerts regarding bulk diesel storage levels.

To further secure Perth's water supply, Water Corporation announced in 2017 that they are providing another 200 of Perth's largest water consumers with Outpost monitoring technology to help them manage their water use and ultimately reduce overall potable water demand.

Christ Church Grammar School recently deployed Wildeye sensors into their brand new St John's Wood sports fields to monitor weather and soil moisture. The soil moisture monitoring system is entirely buried within the playing fields with no visible sign of the system at all - amazing!

Water Corporation use Outpost technology to engage with some of their most important customers, including more than 200 of Perth's biggest water users.
Water Level Monitoring
Monitor water levels with affordable wildeye pressure sensors. Ranging from low cost Tank Level monitoring systems through to borehole and well depth monitoring. Convert levels over a weir into flow rates.
The wildeye level monitoring solution is extremely reliable as it uses an internal barometric pressure compensation device rather than required high maintenance vent boxes. Plug and Play level monitoring at an affordable price.